Luis's first adventure with PinkMyBike
On the maiden voyage of the PinkMyBike monkeys, Luis joined. Here's what he had to say once we were finished...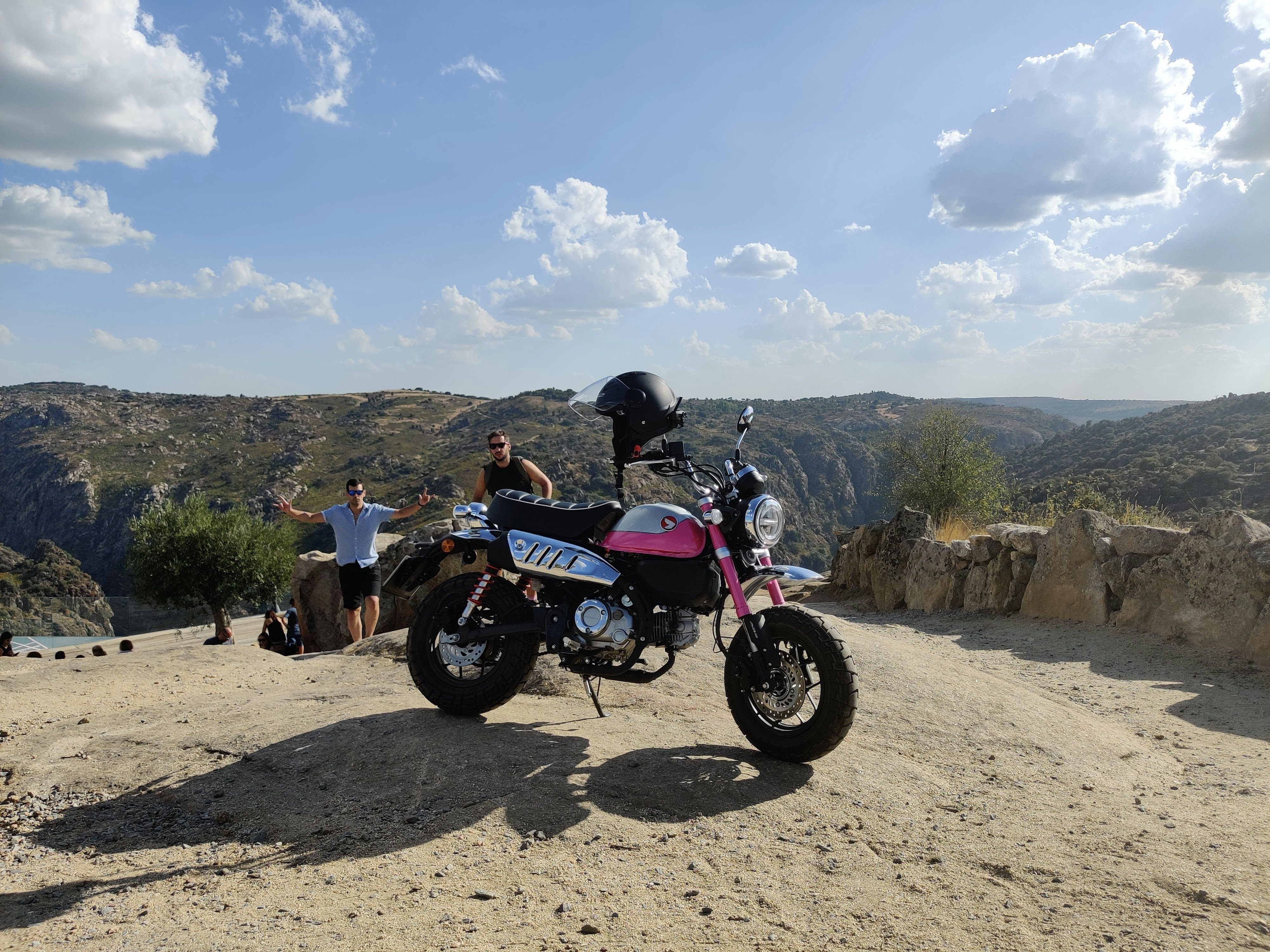 It was a typical summer saturday in Portugal: great weather for driving in a motorcycle around some of the best landscapes available. The air breeze only achieved on two wheels helped to make easy work through a hot day.
Our goal was simple, to test and improve the route through Miranda do Douro. Although he knows the area, Luis was the only one that was not familiar with the route so it all came as a surprise to him.
A planned journey
We started off by departing Bragança with the mandatory stop in the magnificent castle that overlooks the city.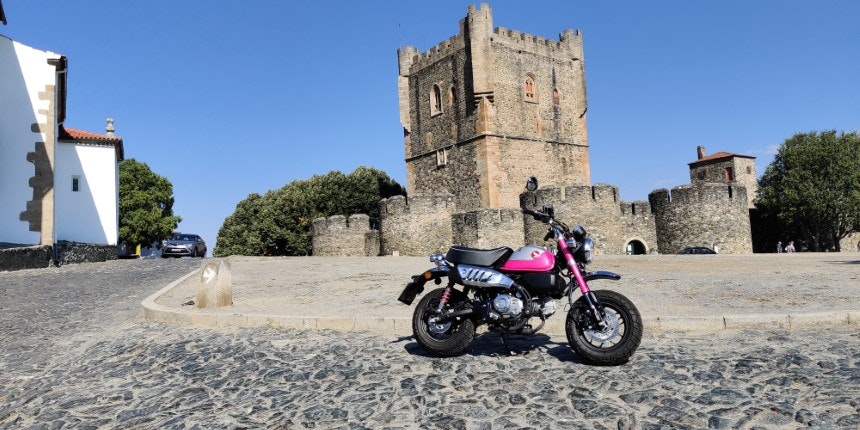 The castle of Bragança is considered a tourist hotspot and we couldn't help ourselves to greet the tourists that smiled at us, as if they shared the excitement we had about starting this tour.
Once we double-checked our communication devices (which are great and you can learn more about what is included here), we set sail headed East towards Gimonde.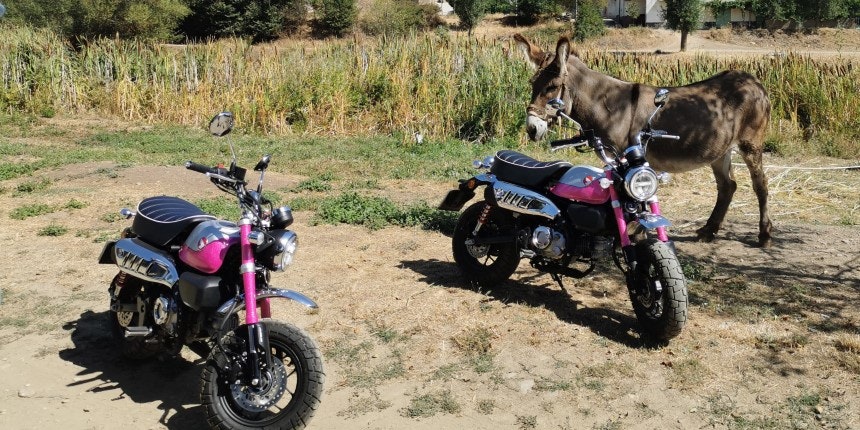 In Gimonde we stumbled across a friendly donkey and we couldn't help ourselves to stop, take some pictures, breath fresh air and absorb all the beauty that surrounded us.
We then continued East through a twisty uphill road that made the engines of the Honda Monkeys feel right at home. We nimbly moved through the road while casually talking about the sights that such a vantage point provides. We couldn't help ourselves to giggle through the microphones in sheer happiness...
Before we knew it, we reached Miranda do Douro.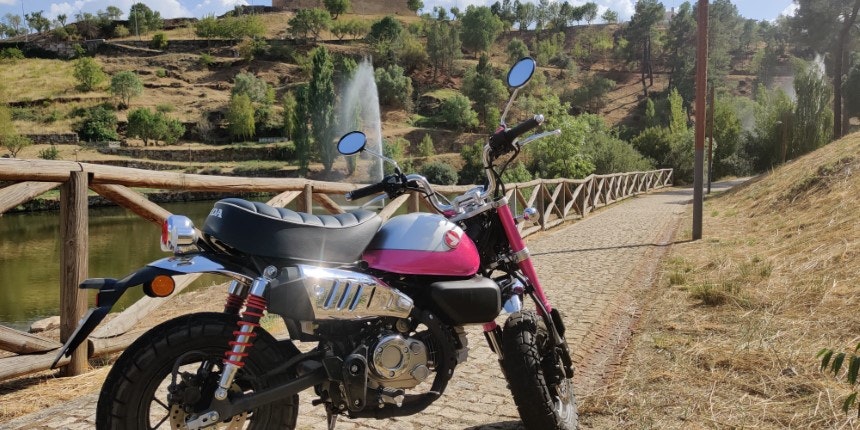 Miranda do Douro is a place that (unfortunately) is not known to many. Due to it's distance to other major cities and being a border town, it has a unique identity that can't be found anywhere else. Home to the 2nd official language spoke in Portugal, "Mirandês", we felt the atmosphere being filled with amazement and respect that such a place deserves.
Roads in Miranda range from long straights to twisty bends depending on if you're on the plateau or getting in/out of it. These roads are a sheer pleasure to drive in.
We hurried to get to "Azibo" in Macedo de Cavaleiros (which is considered one of the best "river beaches" of Portugal). When we got of the motorcycles it was dusk (or "magic hour" as the photographers call it). The sky painted nice shades of yellow and red, while below the horizon we saw the water. No need for fancy "instagram" filters to get a nice picture: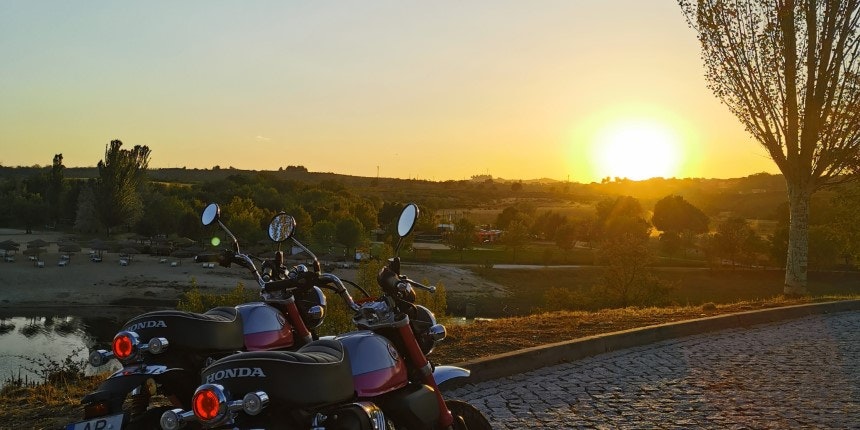 This brought our maiden voyage to an end. We all had a smile in our faces knowing that we had shared a moment of comradery only found on such trips.
At the end, we asked Luis to provide some written words and here's what he had to say:
"Amazing experience! I want to highlight the professionalism and sympathy of the PinkMyBike team, as well as the quality of the given motorcycles. The route highlighted the best there is to see in the North-East Portugal. I will do it again!"